We build community spirit, create community action and find solutions to community problems for Graylingwell Park and Roussillon Park.
We also manage community buildings – see venues for hire.
We empower people by developing skills and supporting projects that create local opportunities, employment and build community spirit.
We work to create a setting where people of all ages are interested and engaged in their local community. We help community groups make their ideas a reality by providing leadership and support. We set up partnerships with local groups that create opportunities and improve quality of life for residents. We organise activities that are free or affordable and aim to encourage our community to meet up, learn and have fun. We aim to be led by the community and always love hearing new ideas for the future.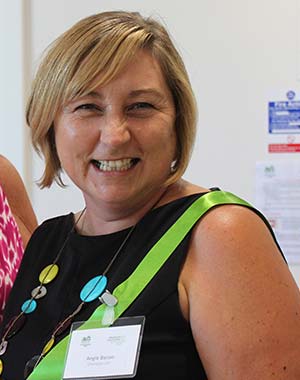 Meet our Community Development Officer, Angie Bacon:
"Hello, I'm Angie, the community development officer for Roussillon Park. My job is to support the community, helping you or your community group to make the changes you wish to see, creating volunteering opportunities and building partnerships that bring diverse opportunities to the community."
We are your partner for making improvements in your community.

However big or small the change is that you wish to see, let's make it happen. We can help you take your idea forward, create plans, identify the needs of the community, find supporters, overcome setbacks and make decisions.
We need MANY community leaders. With many community leaders, our communities will do better. The more people leading a change, the more problems we will solve and the more we will achieve. Community leaders can think about and organise around many different issues: youth development, sustainable growth, education, community buildings, community gardens and local economic growth amongst many. We need leaders from all walks of life so that everyone within the community is represented.
Simple ways to get involved
Even if you have just one spare hour a week, you can get involved in your community and CCDT by:
volunteering your time – We need volunteers. Many of the projects we support need your help, and we also need people to help our small team in the office. Contact Angie to chat informally to our team about volunteering.
joining our Task Group or Management Group
helping to maintain our buildings
supporting our work by joining a focus group
offering your skills as a mentor to the team
Like many small charities, Chichester Community Development Trust works hard to raise funds for its ongoing projects. It is funded thanks to grant aid from several funders and donations.  All donations to CCDT are an investment in the future of Chichester.
Sustainable travel is a key feature of life at Graylingwell and Roussillon Park.
Green Travel Plan
The Green Travel Plan provides information about travel options for residents and aims to help our communities reduce carbon emissions and local traffic.
Travelling here
Coming to Graylingwell Park? Coming to Roussillon Park? We've put in our postcode on Google Maps, making it easy for you to get here on public transport!
No. 50 Bus Timetable >>
Chichester Bus Network >>
Car Club
Co-wheels Car Club Chichester is a membership club, run by a local community/Chichester District Council team, for the people of Chichester District in partnership with Co-wheels Car Club, a national, social enterprise car club operator. The cars are available to club members only and can be booked hourly in fifteen minute increments. Membership is open to anyone holding a full DVLA licence from the age of 19 (providing they have held their licence for 12 months). The club has a Toyota Yaris Hybrid parked in West Street, a Toyota Aygo (small car rate) parked in East Street, a Hyundai i30 parked in Ettrick Road and a second Hyundai i30 parked in Melbourne Road. The day-to-day service is provided by Co-wheels, a market leader with a strong reputation for service delivery. Pricing for the cars in Chichester use the 'Medium' price range. A Toyota Aygo is also available which is in the 'Small' price range. Visit Co Wheels Car Club for more information.