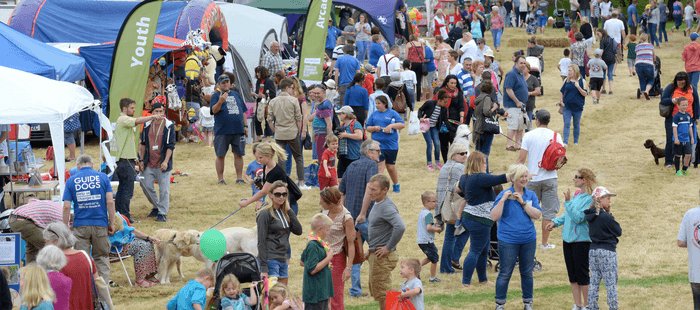 02 May

Summer Garden Party is hotting up

The Summer Garden Party is hotting up.  Here's what you can expect from our different zones.

Kids' Village

Put it this way, if you've got kids or grandkids, they are not going to be bored!  We have music sessions thanks to the wonderful Monkey Music and Immanuel Church is putting on crafts and children's activities.  Messy play will be provided by the wonderful nursery staff from Little Learners (at The Lodge, Graylingwell, every day).  Children can have boing, boing fun on the bouncy slide, in the Gladiator game and in sumo suits.  There are vehicles galore so your little ones can enjoy tractor rides, plus can get up close to a fire engine (2-4pm) and police car!

Market

The market is the area to visit for goodies to buy and interesting organisations… enjoy browsing gifts and more.  It's also where you'll find our stand!

There's goodies to buy for children from Kids Enterprise, Usborne Organiser (Children's Books); interesting organisations such as Transition Chichester, City Angels, Cathedral Wealth Management (running a tombola),  Epilepsy – Marie Edgar, St Richards Critical Care Fundraising, West Sussex Mediation Service and the Chichester City Band.  Great food for your home from COOK Chichester and Riverfood Organics. Browse and buy from Finishing Touches (scarves, belts, bags), Lavenderlily (home decor and gifts), Little Gems (Wedding Biz & Popcorn), Forever living (Aloe based products) and Nail Wraps. Art lovers will enjoy the pallet art and screen printing, Reay Art (glass art), John Hill Watercolour Classes; and pet owners will find Paws & Claws Pet Photography and Pawfect Poochies (dog products)

Entertainment

The main entertainment arena is going to be jam packed with fun things to do or watch and best of all Dawn Gracie is MC for the day.  Join in and bounce with KTroo, dance with FitJoy and try Capoeira.

Or you can head over to the Performance stage to see these fantastic singers, choirs and local bands (and more):  Dawn Gracie, Chichester City Band, Regis Guitar and Ukulele band, Maddie and Nathan, and the New Community Choir.

Arcade

Down at the Arcade, you'll find some traditional, forever-fun stalls such as the Runaway Train, Beat the Goalie, Tin Can Alley (thank you Selsey Scouts), flowers, crockery smash and coconut shy (thank you 12th Chichester Scouts), 2nd hand book stall, scout active support plus Capoeira and a beautiful vintage bus (thank you Stagecoach buses)!

Wildlife

We are delighted to be supporting the following organisations at the Summer Garden Party.  Pop along to get info and support: Cat and Rabbit Rescue at Sidlesham, RSPB Pagham Harbour & Medmerry, Wildlife Officer and Dog Warden, and Brent Lodge.

Food     

You can definitely eat your way around the Summer Garden Party! For a relaxed cup of tea with a slice of cake seek out Immanuel Church Tea Tent.  Lots of lunch options including Czech and Slovak food, 12th Chi Scouts BBQ, Scout active Support salad or fruit bar, Hog Roast, Pizza – Dough & Deer. To quench adult's thirst, you can find Pimms Tent (Bars 4 U), Chilgrove Gin and Hebridean Liqueur.  For your sweet tooth you'll find ice cream from Caroline's Dairy, Gourmet Fudge, donuts + slush puppies, Candy Floss. There's even food to take home: Gingerbread houses and Gift-Wrapped Cupcakes.

Dog Zone

Dog trainer, Mad about Dogs, is supporting the dog show arena again and there will be an ace 'try me' agility course for you and your dog and also demonstrations from Mad About Dogs.  Our Youth Ambassadors will once again be running the dog show with lots of fun categories.  Bring your dog!